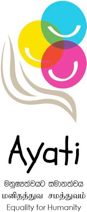 Ayati is one of the main initiatives of Hemas Outreach Foundation where the term "Ayati" simply refers to "Hope" in Sanskrit. It is a   long-term, sustainable national initiative aimed at helping children with disabilities become productive, integrated members of society.  Ayati is managed by Ayati  Trust Sri Lanka, a charitable trust established by the Faculty of Medicine of the University of Kelaniya and Hemas Holdings PLC in 2016 with the patronage of MAS Holdings Pvt Ltd., Roshan Wijerama Family Foundation whilst the Rotary District 3220 participated in the project to supply necessary equipment for the audiology department and the Sri Lanka Army shouldered the construction of the state-of-the-art facility.
'Ayati', signifying the initial steps taken by a child at the beginning of the journey through life.
 Ayati is the first national  Center for children with disabilities in Sri Lanka. 

The Centre is located in Ragama within the premises of the Faculty of Medicine, University of  Kelaniya.  It is now serving all Sri Lankans across the country and provides its services free of charge. 

At present over 9000 children are registered with AYATI and approx. 175 – 200 children from across the country visit the center to obtain services on a daily basis.  The AYATI Centre also provides tele-health services to children who face challenges in accessing the facility due to travelling restrictions. 

The AYATI Centre has multi-disciplinary clinical operations throughout the week. The areas covered extend to all disabilities (physical &mental) including but not limited to Cerebral Palsy, Down syndrome, Autism Spectrum disorder etc. with initial screening and interventions that include Speech & Language Therapy, Audiology, Physiotherapy, Family Therapy, Occupational Therapy, Education and Nutrition therapy. AYATI consist of a state-of-the-art Audiology unit, Sri Lanka's first Sensory room, a multi-disciplinary training centre, and research and development facilities, in addition to other clinical support services.
The clinics are conducted by highly qualified professional experts attached to the Faculty of Medicine of the University of Kelaniya. AYATI Center is the clinical training center for all the undergraduates of the faculty of disability studies and therefore is an extension to the academic needs. The centre also conducts training programs for medical undergraduates, community paediatric trainees, parents, caregivers and teachers
AYATI Vision
Enabling children with disabilities to reach their unique potential
AYATI Mission
Ensuring equal access to education, healthcare, social participation and providing future  employment for children with disabilities in Sri Lanka
Ayati stands today as a successful initiative