Page 4 - Hemas_Piyawara_Book
P. 4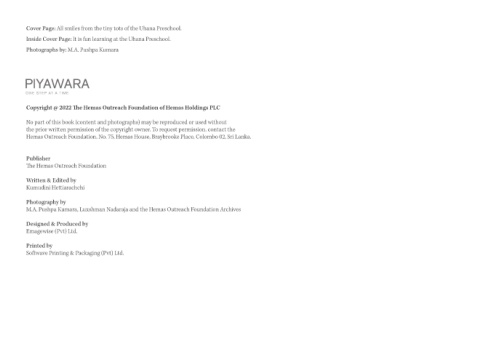 Cover Page: All smiles from the tiny tots of the Uhana Preschool.
          Inside Cover Page: It is fun learning at the Uhana Preschool.

          Photographs by: M.A. Pushpa Kumara




         PIYAWARA

         ONE STEP AT A TIME

          Copyright @ 2022 The Hemas Outreach Foundation of Hemas Holdings PLC
          No part of this book (content and photographs) may be reproduced or used without
          the prior written permission of the copyright owner. To request permission, contact the
          Hemas Outreach Foundation, No. 75, Hemas House, Braybrooke Place, Colombo 02, Sri Lanka.


          Publisher
          The Hemas Outreach Foundation
          Written & Edited by
          Kumudini Hettiarachchi

          Photography by
          M.A. Pushpa Kumara, Luxshman Nadaraja and the Hemas Outreach Foundation Archives


          Designed & Produced by
          Emagewise (Pvt) Ltd.

          Printed by
          Softwave Printing & Packaging (Pvt) Ltd.