Page 5 - Hemas_Piyawara_Book
P. 5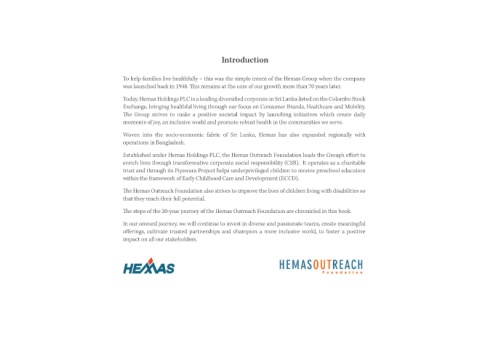 Introduction



                                          To help families live healthfully – this was the simple intent of the Hemas Group when the company
                                          was launched back in 1948. This remains at the core of our growth more than 70 years later.

                                          Today, Hemas Holdings PLC is a leading diversified corporate in Sri Lanka listed on the Colombo Stock
                                          Exchange, bringing healthful living through our focus on Consumer Brands, Healthcare and Mobility.
                                          The Group strives to make a positive societal impact by launching initiatives which create daily
                                          moments of joy, an inclusive world and promote robust health in the communities we serve.

                                          Woven into the socio-economic fabric  of Sri Lanka, Hemas has  also expanded regionally  with
                                          operations in Bangladesh.
                                          Established under Hemas Holdings PLC, the Hemas Outreach Foundation leads the Group's effort to
                                          enrich lives through transformative corporate social responsibility (CSR).  It operates as a charitable
                                          trust and through its Piyawara Project helps underprivileged children to receive preschool education
                                          within the framework of Early Childhood Care and Development (ECCD).

                                          The Hemas Outreach Foundation also strives to improve the lives of children living with disabilities so
                                          that they reach their full potential.

                                          The steps of the 20-year journey of the Hemas Outreach Foundation are chronicled in this book.
                                          In our onward journey, we will continue to invest in diverse and passionate teams, create meaningful
                                          offerings, cultivate trusted partnerships and champion a more inclusive world, to foster a positive
                                          impact on all our stakeholders.